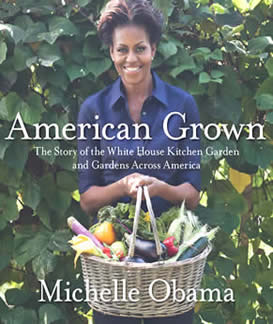 First Lady Michelle Obama's inspiring book about the White House Kitchen Garden
Nutrition experts point to food deserts as a key reason why obesity and weight-related ailments such as diabetes, cardioscular diseases and hypertension beleaguer inner-city residents. From last July, the first lady announced nationwide commitments to open or expand stores in areas with limited access to healthy food.
On January 31st, after arriving in Los Angeles on Tuesday, Mrs. Obama made her first appearance on the "Tonight Show," where she persuaded Jay Leno into nibbling on apples, and a pizza made with eggplant, green peppers and zucchini, breaking his aversion for all "healthy things".
To continue the promotion and success of Mrs. Obama's Let's Move campaign, she began the heart month visiting the site of future supermarket Northgate Gonzales Market in Inglewood to promote her efforts to provide healthier food options in traditionally underserved areas. The new Northgate Gonzales Markets is a product of the California FreshWorks Fund, CAFWF, which has raised $200 million to invest in bringing grocery stores and other forms of healthy food retailers to underserved communities.
"The FreshWorks Fund is helping Northgate transform the health of communities!," said Gonzalez. "We value being able to contribute to the health and well being of the neighborhoods we serve."
In addition to the First Lady, speakers include President and CEO of the California Endowment Robert K. Ross, M.D., Los Angeles Mayor Antonio Villaraigosa, Inglewood Mayor James Butts, Northgate Gonzalez Markets COO and Co-President Oscar Gonzalez, and community leaders from around Los Angeles. Speakers noted the visible progress being made in communities in the region, but also illustrated the need to do more.
FreshWorks has committed $20 million in financing to Northgate for its first three projects.Two planned stores in Inglewood and South Los Angeles, and a recently opened City Heights, in San Diego.CAFWF program guidelines note that projects will get priority points if they don't sell cigarettes, have a higher proportion of healthy food for retail sale, eliminate junk food aisles and other factors.